The transfer of silver and gold from the West to the East is massive and on-going. As bars become available, bullion is migrating to Iran, India, Korea, Japan, UAE, Thailand, Vietnam, Turkey, Russia, and China. Since 2008, China's purchases have been off the charts. About 75% of world gold production is flowing to China.
If you are considering precious metals as portfolio insurance, buy only PHYSICAL silver and gold. If you have the actual bullion in your own possession, there is no third-party risk. The best form to buy is the form that will be easiest to trade during turbulent markets. Easily recognized coins and bars can be traded anywhere in the world.
FIRST STEP: Silver is survival currency. Buy new U. S. 1 oz silver dollars and old U.S. 90% silver coins. Small denominations could be used to barter for goods and services.  

American Silver Eagle coins are exactly 1 oz of pure silver.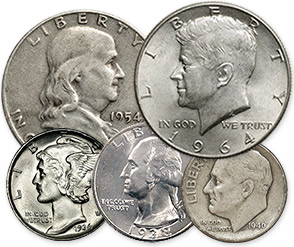 Pre-1965 U.S. dimes, quarters & half-dollars are 90% silver. The silver coins are called junk silver — sold in bags ($1,000 face value), half-bags ($500 face), quarter-bags ($250 face), & ($100 face).
U.S. silver dollars are a good idea ("AU" Morgan or Peace dollars). You just need more money to buy the old coins.

Canadian Silver Maple Leafs are exactly 1 oz of pure silver.
SECOND STEP: Gold is portable. Buy gold bullion coins and pure gold bars -1/10th, 1/4,  1/2,  & 1 Troy ounce. Smaller denominations of coins and pure gold ingots are available.

1 oz American Gold Eagles & 1 oz Canadian
Maple Leafs are recognized everywhere.

.9999 pure gold [24k] kilo bars are popular in Asia.

Small American Gold Eagles are great
[and small Canadian Gold Maple Leafs].
FINAL STEP: Buy platinum, palladium, and U.S. silver and gold numismatic (rare) coins. These investments are not for everyone — the more exotic or rare an investment is, the less liquid it is when markets are disrupted. However, there are very good reasons to buy each category of precious metals and coins.

Platinum is a rare, strategic metal.
Platinum is still a good buy.

Some investors prefer antique U.S. coins.
U.S. $20 Gold Pieces – Liberty & St. Gaudens

$5 Indian, $20 St. Gaudens, $10 Indian
When people realize how rapidly the dollar is losing purchasing power, there will be a global scramble for actual bullion. While U.S. markets are still orderly, put a significant portion of your retirement funds into gold and silver. You may choose to convert a percentage of your entire portfolio with a one-time purchase, or cost-average with even dollar amounts over consecutive months.
Real gold and silver money
provides ultimate liquidity —
portfolio insurance you control.  
by Denise Rhyne
END NOTES
Record-demand in the Eastern Hemisphere for PHYSICAL gold and silver has periodically caused delayed deliveries, high premiums, and shortages. However, the shortages have not been apparent in the Western Hemisphere because 99% of Western investors buy PAPER gold and PAPER silver "derivatives." Exchange Traded Funds [ETFs] such as SLV and GLD are highly leveraged — the same ounce of silver or gold is sold 100s of times.
High gold and silver prices make the U.S. dollar look bad. Spot prices are kept artificially low by a trading technique called concentrated short-selling. To suppress prices, millions of ounces of PAPER gold and PAPER silver are dumped simultaneously on commodities exchanges in London, Chicago, and New York. Massive sales of PAPER gold and PAPER silver (coordinated by the Federal Reserve) now make it possible to buy bullion at artificially low prices.
Weights, Measures & Balancing Scales